School lunches aren't the same as they were 30, 15 or even five years ago. Chances are, however, your school kitchen could still look the same.
By now, the school year is in full swing. For school nutrition professionals, that means it's time to start thinking about the equipment they will need for the next school year. Here are five pieces of school foodservice equipment you should consider for your school nutrition program:
Panasonic Sonic Steamer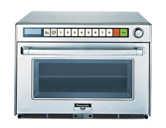 We know that steam-cooked foods are healthier and retain more nutrients than foods cooked in other ways. However, traditional steamers are expensive and require a good amount of cooking time. With the Panasonic Sonic Steamer, foods are steamed in a significantly shorter amount of time while retaining their vitamins.
[SEE ALSO: Six Benefits of a Panasonic Sonic Steamer]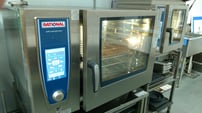 Rational Combi-Oven
Rational combi-ovens can eliminate the need for several larger, more expensive pieces of equipment. For school kitchens, rational combi-ovens can offer faster cook times, more consistent meals and healthier cooking processes. Want to learn more about Rational? Sign up for RATIONAL CookingLive.
[SEE ALSO: Versatile Cooking Options from Your School Cafeteria Provided by Rational Ovens]
Continental Milk Cooler
School nutrition programs are required to follow certain nutrition guidelines, one of which is milk. Continental milk coolers make this nutritious beverage available to students and staff all day in an easy-to-use, energy efficient reach in cooler. These coolers are available in cold wall and forced air options to fit the needs of your school cafeteria.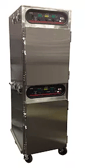 Carter-Hoffman Holding Cabinets
In school kitchens, food has to be prepared in large portions. We believe that every student's meal should be as fresh as the one before it, regardless of where they are in line. This is where holding cabinets come in. Not all holding cabinets are the same, though. Carter-Hoffman's holding cabinets utilize gentle air circulation that seals in mositure and cooks more evenly. This allows food to stay warm without compromising its quality.
Discover which pieces of foodservice equipment can benefit your school kitchen. Schedule a free School Nutrition Assessment for your Virginia or Maryland K-12 operation.