We would like to introduce you to the latest member of the High Sabatino team, our new corporate chef, Tommy Abbott.
Chef Abbott grew up in Richmond, Virginia, which is where he also began his culinary career. Needing a job and having little professional cooking experience, Chef Abbott started answering restaurant help-wanted ads and knocked on restaurant back doors. One restaurant, in particular, was looking for line cooks.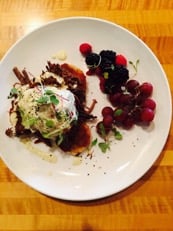 "I won over the hiring chef by being an Eagle Scout, and I started the next day," Chef Abbott says. "Those first few days molded the path that lead to my career as a chef."
Chef Abbott fell in love with the "controlled chaos" of the kitchen and quickly excelled in managing time and logistics, two characteristics critical for success. He became a sponge, learning and growing as a "culinarian" and developing a passion for creation and the art of being a chef.
At the beginning of his career, Chef Abbott hopped around the city of Richmond trying out new restaurants and learning everything he could about cooking and foodservice in order to advance his career. He landed a sous chef position at a local, Richmond fine dining restaurant, where Chef Abbott began to learn the business side of the kitchen while simultaneously growing his creative abilities.
After a few years, Chef Abbott found himself in the executive chef position at an Italian restaurant in Washington, DC's Capital Hill neighborhood. Finally, in the head role, Chef Abbott began the arduous process of navigating personnel management.
"The greatest challenge managing a kitchen is personnel management," he says. "Having the ability and confidence to trust that you have trained a staff properly is hard-fought."
Their restaurant boasted fresh-made pasta, and Chef Abbott worked long days and nights in order to master the required techniques and logistics. This is also where he really honed his skills of teaching others how to master techniques, as well.
"An effectively trained staff makes service effortless. It feels amazing to walk away from a flawlessly executed service," he say. "It's like hitting a home-run or a perfect drive on the 18th hole."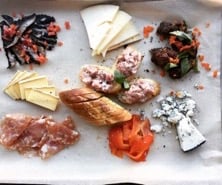 From Capitol Hill, Chef Abbott moved on to the Neighborhood Restaurant Group and honed his personal management skills with Columbia Firehouse and Rustico. Eventually heading south and back to his hometown, he put himself on the map by focusing on and utilizing ingredients from local farms. His dishes were crafted completely from scratch, right down to the ketchup he served with his French fries.
"Making ketchup is like a symbol of dedication. It's my way of conveying the care that is put into the plate sitting on the table. It takes time and coordination. Slow roasting tomatoes for hours to blend with the finishing ingredients is a long process but worth every minute," Chef Abbott says.
Chef Abbott developed a deep love for supporting local farms and worked closely with them for the next several years of his career.
In Fredericksburg at Spencer Devon Brewing, Chef Abbott used pork, chicken, and beef from local farms and even helped them to either slaughter and process chickens or drive heads of cattle to the slaughterhouse. He gained much knowledge by associating this closely with the farmers.
"Putting my boots on the farm was important because it showed respect to the farmer and gave him the opportunity to share his experience with a customer at a restaurant confirming freshness and the local support within the community," Chef Abbott says.
After a hard but rewarding career in kitchen operations, Chef Abbott has begun to pursue a career on "the other side" of operations. Starting as the Corporate Chef for High Sabatino Associates, Chef Abbott will work closely with the sales team and help provide culinary consultation to ensure that each establishment is getting the best equipment for their needs and developing an open line of communication with chefs and restauranteurs in the area.
Please join us as we welcome Chef Tommy Abbott to the High Sabatino family.