All foodservice operations face a similar set of challenges, regardless of what they serve or to whom they serve it. Those challenges also lead to popular solutions, and of all the current foodservice equipment trends, ventless cooking might be one of the most popular.
Ventless can provide a whole range of benefits for operators, from portability to reduced operating costs. Ventless foodservice equipment is also typically easier to install without the need for extensive ductwork, and this can mean higher profitability over the long term.
Let's take a closer look at ventless commercial cooking.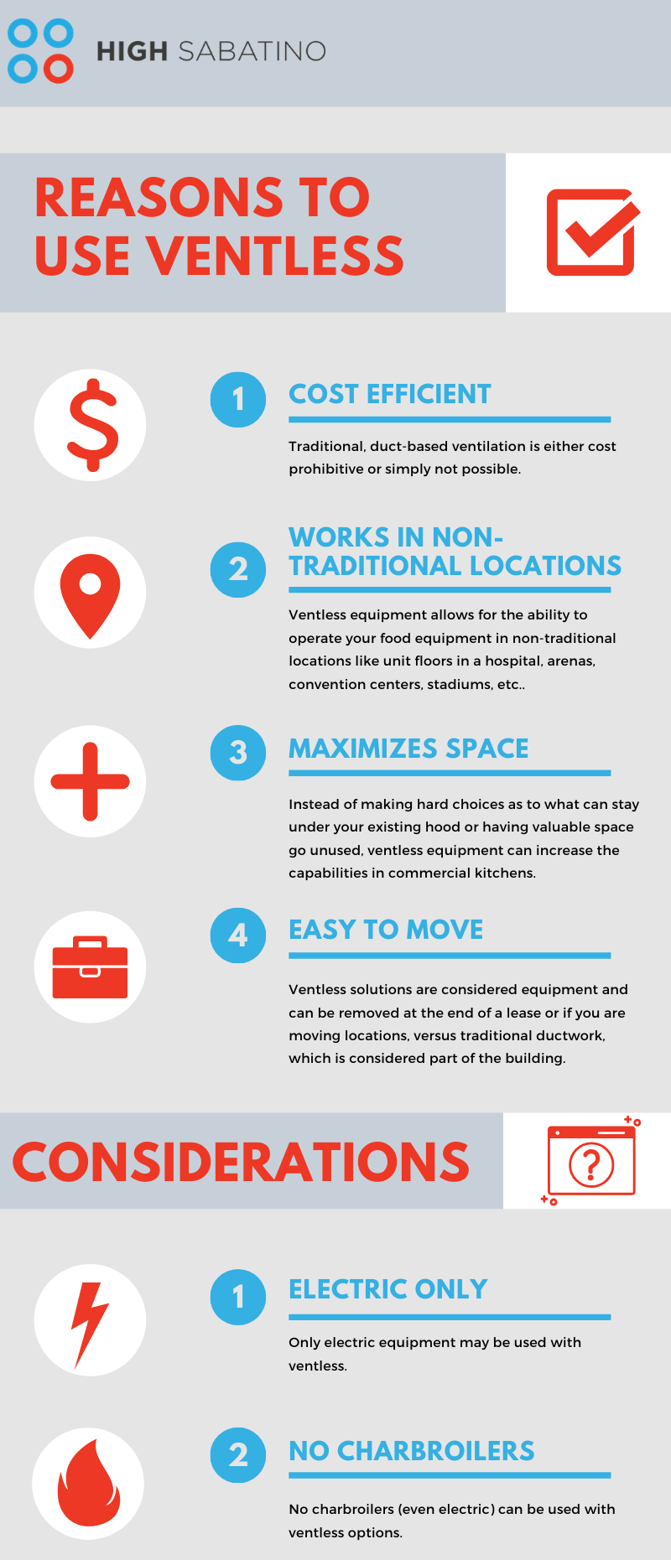 What Are Some Ductless Foodservice Equipment Options?

RATIONAL has a line of ventless options called the UltraVent, and UltraVent plus. The UltraVent is mounted directly on top of RATIONAL ovens, and can also be used for stacked excess. The standard UltraVent removes heat through a filter. The UltraVent plus removes heat by using a filter, and also removes odors with a charcoal filter.

Ventless doesn't have to stop at cooktops or ovens. Any time that you have hot air in the kitchen, it opens up the possibility of removing it with a ventless heat removal system. That includes your dishmachine. MEIKO has a ventless door type dishmachine; it features a type 2 hood with no grease filtration that a type 1 would have. Rather, it collects condensation and heat inside the dish area and utilizes the steam to continuously heat the water inside the machine. The booster heater then runs less and reclaims energy. It can run on cold water supply, reducing your overall heating cost. Another bonus is that it requires no special ventilation.
By making the decision to go ventless, your restaurant or other commercial kitchen benefits in a variety of ways. Smaller, simpler equipment is easier to manage, is more cost-effective, and can be approved more quickly than bulkier, more complex equipment. Contact High Sabatino for a free assessment to learn more about whether ventless cooking is right for your restaurant or other commercial kitchen!
We can help you determine what type of ductless equipment makes sense for your establishment.