High Sabatino Associates is one of the region's leading providers of foodservice equipment in schools, colleges, and universities. From Virginia Tech's state-of-the-art Turner Place dining facility to your local elementary school, we are experts in finding the right equipment for every situation. Two issues that all school kitchens face are efficiency and the ability to create healthy but tasty dishes that students enjoy. Using the right equipment can help with both.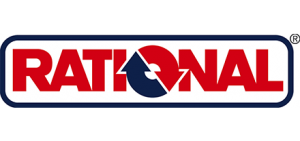 Achieve results with the CombiMaster Plus from Rational
When it comes to combi ovens, Rational's CombiMaster Plus employs the latest technologies to achieve results. From enhanced heating control options to a generator that delivers 100% hygienic steam, every aspect of this oven was designed with care and precision in mind. With the CombiMaster Plus you can:
- Employ healthier cooking methods such as steam. CombiMaster Plus' high-performance steam generator produces 100% fresh hygienic steam. You can also cook without adding water or waiting for water to boil, which increases kitchen efficiencies and turnaround times.
- Create consistency with controlled heat. This consistency is the only way to guarantee high quality dishes, whether you're serving meats, frozen foods, or even soft bakery products.
- Save space with a single unit. Combination ovens are called combination ovens for a reason. You can benefit from hot steam with shorter cooking time, minimal waste, and quality.
Achieve results with the SelfCookingCenter whitefficiency from Rational
The SelfCookingCenter whitefficiency is the perfect unit for preparing thousands of meals per day. They are available as either electric or gas models with a wide range or versions to perfectly adapt to your particular kitchen and your specific needs. The SelfCookingCenter whitefficiency is the right unit for your every need. You can:
- Preserve space and energy. The SelfCookingCenter whitefficiency has a 28% smaller footprint, which reduces the required space as well as the energy needed to heat it.
- Easily clean and maintain the unit. With a centrifugal grease trap, there is no longer a need to clean and replace conventional grease filters.
- Ensure safety. The back-ventilated double glass door with a heat-reflecting coating guarantees low contact temperature on the outer window, while also making it easy to clean between the windows.
Learn more about cooking options from Rational and how your school cafeteria kitchen can benefit. Schedule a school cafeteria equipment assessment with High Sabatino.