WHAT KIND OF WAREWASHER DOES MY RESTAURANT NEED?
To start, how about one that saves you time and money?
Running a restaurant is hard enough with food costs and overhead, so it's important to save time and money with other aspects of the business. One example? How about your dishwashing machine? Is it saving you money, or is it costing you?
With the DV 80.2 from MEIKO, restaurants can take advantage of the exclusive Active PLUS double filtration system that removes food soil from wash water on a consistent basis. This saves detergent, lowers costs, eases cleanup, and saves time.
Combine the additional features of the DV 80.2 with a powered final rinse, and this provides constant pressure, a constant temperature for the sanitizing rinse, and eliminates the need for a sanitizing additive.
What else makes the DV 80.2 a perfect unit for your restaurant?
MEIKO's DV 80.2 offers the fast loading and improved ventilation of a door-type warewashing machine with advanced features like fully electronic controls, a built-in booster heater, and pumped rinse and drain. This combination sets the DV 80.2 apart from other units. It also includes:
An award-winning programmable controller to simplify operation and service diagnostics
A design that ensures correct water temperatures for all cycles
The ability to convert it for use in corner installations in a matter of minutes
BY THE NUMBERS
The DV 80.2 from MEIKO is available as a standard door-type unit or in a ventless model.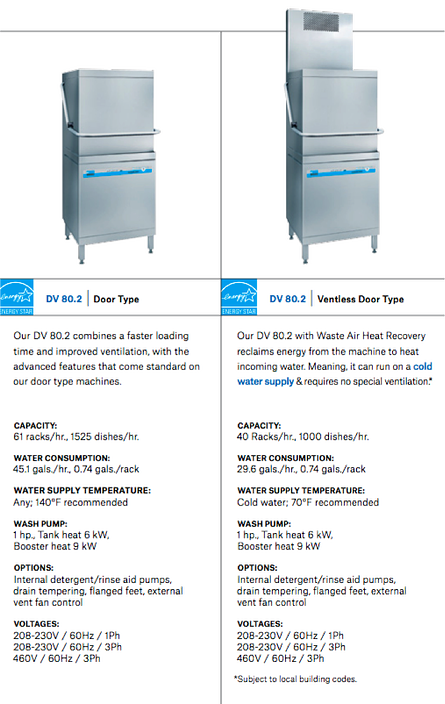 Learn more about the DV 80.2 and other units from MEIKO. Read the MEIKO Guide to Warewashing, and get all the information on commercial warewashing equipment.