Pizza has always been a popular choice amongst those looking for a quick, affordable, last-minute dinner. However, during the recent indoor dining closures, pizzerias became a role model for restaurants looking to survive. Practically overnight, they became leaders in a restaurant industry devastated by COVID-19 closures, in large part because of their ability to provide carryout and delivery services.
PIZZERIAS ARE LEADING THE WAY
Traditional restaurants turned to pizza places for inspiration when their normal operations were turned on their head during the COVID-19 crisis. Pizzerias became the model for the rest of the restaurant industry when it came to ordering services and delivery practices. Many restaurant operators even began modeling their business structure on successful local pizzerias.
According to public health experts, the extreme heat of pizza ovens, along with minimal handling and no-contact delivery, make pizza the perfect pandemic fare. In the stressed public's mind, pizza deliveries proved to be as essential as a toilet paper stash when it came to surviving the lockdowns!
Even now, as restaurants are slowly beginning to at least partially reopen, consumers still tend to view takeout in a different light than before the closures. Instead of being viewed as a poor substitute for a proper restaurant meal when consumers were in a hurry, pizza and other takeout options are now prized in their own right.
Consumers value them because they are delicious, easily available, reasonably priced, comforting, and offered via touch-less delivery. These features make them priceless in the face of the unease and stress that has occurred because of the current health crisis.
With most dining establishments either still closed, operating well under capacity, or only allowed to offer outdoor dining options, takeout is a viable way to keep restaurants alive. Adding pizza to your other menu options can increase your bottom line during what may prove to be a tough recovery.
If consumers begin relying on you for quality pizza, they are more likely to continue patronizing your restaurant when they tire of delivery and are ready (and able) to get back to dining in house.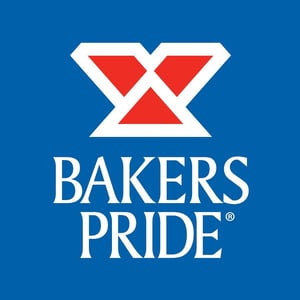 BAKERS PRIDE PIZZA DECK OVENS
Consumers value pizza for its freshness, great taste, quick delivery, and perceived value. With a great pizza oven like those from Bakers Pride, you can tap into pizza's ever-increasing popularity. Increase your bottom line with the food consumers have increasingly grown to depend upon in these unusual times.
Prized for its quality, reliability, energy efficiency, and long life span, a Bakers Pride pizza deck oven will let you add delicious pizza to your other quality food offerings. After all, with 70 years of practice, Bakers Pride has mastered the science of high-quality commercial pizza production!
Adding one of their modern production pizza ovens to your back of house will allow you to compete with any local pizzerias. Quality cooking and baking equipment from Bakers Pride is trusted by professional chefs and industry experts worldwide. Their equipment is proven to withstand the test of time.
Even when things return to 'normal', quality ingredients, innovative toppings, and exceptional service will help keep your pizzas at the forefront of neighborhood takeout options when you invest in a professional-quality Bakers Pride pizza deck oven now!
Get a free equipment assessment from High Sabatino, and we'll help you determine what type of pizza oven is best suited for your local operation.