Life can be fast-paced, whether you're running a foodservice operation, or the one ordering food from that operation. Thankfully, technology helps us make ordering and serving a little easier. Many restaurants are adding the option of online ordering as a service, and some are even creating their own app to make things easier. Additionally, online delivery is becoming a popular convenience for consumers in major cities worldwide. From restaurants creating their own apps to businesses specifically made into personal delivery services, the future is online.

How can we re-imagine takeout with the latest equipment in the foodservice industry? We're breaking down the facts and statistics behind the popular trend and discussing how it can be profitable for your operation.
STATISTICS AND FACTS
According to Restaurant Business, 25% of consumers ordering online spend more money on food than those dining-in. This can be contributed to the fact that they have more time to review menu options, find comfort in having their own privacy, and can make each order at their own convenience. Restaurants utilizing apps for online ordering services showed a 50% increase in service between 2017 and 2018.
While delivery services are popular, a recent survey recorded that ordering online and picking up on-site is still a more preferred option. Perhaps this is due to the ability to order ahead of time and pick it up on the way to work or on the way home. It saves people time, while bringing in additional income to your operation.
CHALLENGES, TRADE-OFFS, PROFITABILITY
With any change comes the potential of having to face challenges. As you introduce new equipment and new processes, you'll deal with things like quality of service, and helping hired labor adjust to new work standards. It may take some time to get used to, but the learning curve offers the amazing trade-off of bettering business. When hungry consumers are looking to fill their cravings, and wanting something they don't have to wait around on, it makes business busy (but manageable.)
You'll find that offering a new form of takeout allows you to reserve space in-house. Ultimately, you will spend less money paying for staff to go behind guests and clean up after them because they've picked their order up, making it easier to keep a tidy business. You'll still have your routine dine-in customers, but you can gain an entirely new set of patrons solely by offering a new way of serving them. What seems like such a small change will allow you to increase profitability by saving time, lowering labor costs, and helping you increase your market.
INTRODUCING PUC
When you're looking to bring your foodservice operation into that "new takeout lifestyle," make sure you have the proper equipment. Carter-Hoffman has crafted a smart cabinet solution to assist you. PUC is a safe and secure pick-up cabinet that reduces pick-up times by 70%. That long line of waiting consumers will now have a quick and easy option to grab their order and go, which in turn, makes a happy patron that will continue to return.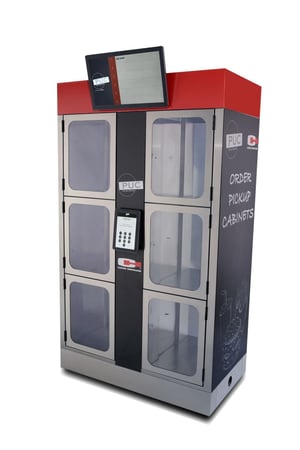 To make things easier, once the system is integrated with your POS system, it handles things like sending notifications to customers when their order is ready. With their special code, they can come by and pick up their order, thank you for the delicious meal, and take it with them without any hassle.
Enhance your customer's experience by contacting us today. At High Sabatino, we're looking to ensure you have the best and latest equipment to make your foodservice operation a success. We can provide you with research on additional benefits and any information you need when it comes to installing PUC and making the transition to a more technology-friendly business.
Get a free equipment assessment from High Sabatino, and we'll help you determine what type of PUC makes sense for your restaurant.