If there was one theme to take away from the 2017 NRA Show, it was innovation. The foodservice industry is embracing technology, and it was shown in every booth and demonstration at this year's show. There were a couple booths that stuck out, however.
Both Rational and MEIKO were awarded Kitchen Innovation Awards. Winston also debuted incredible new controls for their CVap machines.

Rational is no stranger to Kitchen Innovation Awards. This year, their award winning XS Model 6 2/3 was praised for its full range of features in such a compact design. The XS can replace multiple, larger pieces of equipment, including impingement microwaves. Although impingement microwaves are able to cook one food item at an accelerated pace, the XS can cook several different types of food at once. This comes in handy in a high-volume restaurant where there is an ever-increasing stream of tickets being printed.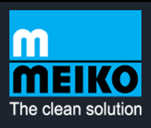 MEIKO debuted their RO Unit, which is an undercounter sanitizing glasswasher that produces spot free glasses every time. They used innovative, reverse-osmosis technology in their filtration system to achieve these results. With this glasswasher, bartenders will no longer have to manually polish glasses every time someone orders a drink, which can be a game changer for many high-end bars.
When you're ready to learn more, we are happy to sit down with you and discuss how we can solve your foodservice challenges.