Vitamix is one of the most reputable brands in all of foodservice. Earlier this year we gave you a brief introduction to Vitamix applications, as well as access to their comprehensive video library, but today we wanted to take a few minutes to talk about three of their most popular models.
There's no doubting the fact that choosing is difficult, and whether you're a smoothie bar or just a bar, there are features and benefits to each of the three most famous units below.
The Vitamix Vita-Prep
® 3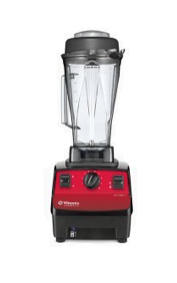 The Vita-Prep 3 is stronger than the original Vita-Prep. It's also extremely versatile, as it can go from chopping delicate vegetables to blending tough purées with the press of a button. The Vita-Prep 3 is great for high-volume demands across Virginia and Maryland, including operations where back-to-back blends are the norm.
≈3-HP Motor
The newly-designed motor features improved thermal capabilities, providing the power and dependability required in the most demanding commercial kitchens.
Manual Controls
Variable speed control delivers a full range of precise textures, and the start/stop switch automatically returns to a neutral position, helping to prevent unintentional start-ups.
Advanced Cooling Fan
The advanced cooling fan provides optimum reliability during peak hours of operation.
Tamper
An included tamper provides the flexibility to blend thick and frozen mixtures without stopping the machine.
Durable Container
The durable BPA-free 64-ounce high-impact container comes with a removable lid plug, making it easy to add ingredients while blending.
The Vitamix XL
®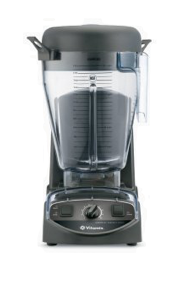 The Vitamix XL is what it sounds like. It's extra-large capacity can blend up to 24 eight-ounce servings at the same time, allowing operators to maximize productivity with the largest capacity, countertop blend available. What else can the XL do? Improve efficiency, reduce prep time, and expand menu capabilities to name a few -- all from your countertop.
4.2-HP Motor
The XL ≈4.2 peak output horsepower motor commands heavy blending to deliver mass quantities of kitchen staples in a fraction of the time.

Responsive Controls
Variable speed control and the pulse feature work together to create precise textures and complete flexibility in the kitchen.

Large 1.5-Gallon Container
Minimize prep times with the low-profile 1.5-gallon container, complete with a removable lid plug to easily add ingredients while blending.

64-Ounce Container
The 64-oz. container with removable lid plug is ideal for blending smaller batches.
The Quiet One®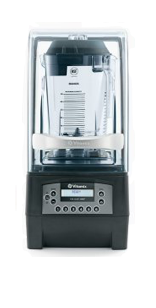 Shhhh. You're operating a coffee shop. People are in here working quietly, getting stuff done. The Quiet One will not interrupt them. With 93 variable speeds that softly blend at a decibel level equivalent to a quiet conversation, The Quiet One will make your customers happy in more ways than one. Shhhh.
Advance® Container
The advance container is specifically designed to create the smoothest frozen beverages. Its no-drip spout reduces product waste and clean-up.

Patented Noise Reduction
The Quiet One has a magnetically secured sound enclosure and other patented technology to drastically reduce blending noise and maintain a comfortable atmosphere.

Optimized Programs
With six optimized programs, 34 available settings, and automatic shut-off, you can create consistent, high-quality blends while you take the next request.

3-HP Motor
The ≈3 peak output horsepower motor quickly pulverizes ingredients and blends multiple servings of smoothies, frappés, and frozen drinks with ease.
From smoothie shops and delis to bars and restaurants, see how Vitamix commercial blenders play a role in the success of foodservice operators in our Vitamix Video Library.