From chips and queso to bottomless margaritas, Cinco de Mayo carries a huge profit potential for foodservice operations. What makes this holiday so valuable for restaurants, especially in the United States, is the emphasis on food and beverage. Establishments, especially Mexican restaurants, become official headquarters every fifth of May.
And it's not just Virginia, Maryland, and Washington D.C. Mexican restaurants who can reap the benefits of the holidays. According to Modern Restaurant Management, Cinco de Mayo outperforms a regular "Taco Tuesday" for restaurants by 10 percent in revenue. But restaurant operators need to be equipped to handle the high traffic, hungry guests, and a need for fast, efficient service.
So whether your restaurant is celebrating Cinco de Mayo or just a Taco Tuesday, here are six pieces of foodservice equipment no Mexican restaurant shouldn't be without.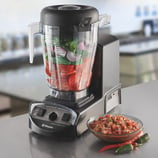 BLENDER
Enjoying a cup of fresh salsa or guacamole with chips is often the first step in a diner's journey at a Mexican restaurant. The Vitamix XL is one of the largest capacity countertop blenders on the market offering the ability to blend up to 24 (8 oz.) servings at once. The 4.2-HP motor offers the ability to make a gallon of salsa or guacamole within a minute and a half, perfect for busy restaurants on Cinco de Mayo.
CHIP WARMER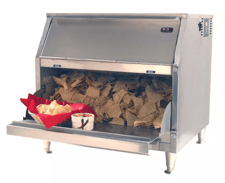 Tortilla chips are a staple of every table, booth, and bar in a Mexican restaurant. Carter-Hoffmann chip warmers offer a continuous supply of hot, fresh chips in the busiest of restaurants. These large capacity warmers feature first-in, first-out rotation for serving the freshest product, while reducing chip breakage. With an intuitive design, operators can serve more chips in less space than traditional methods.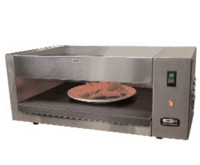 CHEESE MELTER FINISHING CABINET
Finish appetizers and entrees in a flash. This finishing cabinet from Carter-Hoffmann packs the power to improve food appearance and temperature in an instant. The compact size allows operators to maximize small spaces and a removable back panel allows them to convert the unit to pass-through, without tools. Perfect for adding the final touches to those enchiladas.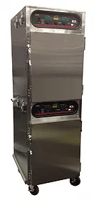 COOK & HOLD CABINET
Busy Mexican restaurants who utilize longer cooking times, will produce higher quality, tender meat for their menu items. A cook & hold cabinet from Carter-Hoffman saves operators time and labor with overnight cooking. And installation is easy and inexpensive, with no hood needed. From beef to chicken to fish, slow cooking, baking, and roasting in a cook & hold cabinet gives Mexican restaurants the product versatility to truly stand out.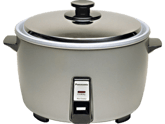 RICE COOKER
No Mexican dish is complete without a side of rice and beans. And since so many menu items feature rice, it's important to have equipment capable of cooking large loads at once. Panasonic rice cookers not only offer precision cooking quickly, but they can heat rice for several hours without overcooking it.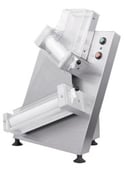 DOUGH SHEETER
For diners at a Mexican restaurant, nothing can top the taste of fresh, homemade tortillas. And with a dough sheet from Doyon, it's simple and easy to do, right on the kitchen counter. One operator can produce 250 sheets of dough per hour to a uniform thickness. Not only is this simple and fast, it's ideal for tortillas, wraps, pizzas and more.
Is your commercial kitchen equipped to operate efficiently and profitably? Let High Sabatino provide you with a free foodservice equipment assessment. Click below to get started.