It's hard to find a steakhouse in and around Washington, D.C., that doesn't embrace the dry aging concept. After all, dry aging has great impact on the flavor and texture of steaks, but why? The answers are rooted in science.
Dry aging meat allows enzymes to act on the proteins within the meat, changing their cellular compositions and turning them into savory amino acids and fats. These enzymes reduce the sizes of these molecules, while giving them smaller, more flavorful profiles.
At the same time flavor is impacted, so too is texture. Those same enzymes weaken supporting proteins that hold tissues together, leading to bites of steak that are also more tender.
More flavorful, more tender steak? Yes, please.
The balance operators have to consider is one of temperature and humidity. When meat becomes too moist, it can lead to bacteria growth. When it becomes too dry, the steak can dry out. At the same time, temperature control allows operators to dictate the decomposition process, keeping meats safe from airborne bacteria.
So how you make dry aging easy? With TenderChef from Carter-Hoffmann.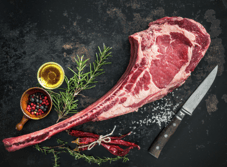 We detailed the science of dry aging. How about the art? In order to achieve the best results, it takes time, and that's exactly what the Carter-Hoffmann TenderChef dry aging cabinets can do. Bring this process right into the kitchen (or even better, put these stunning cabinets in the front of the house for a bigger impact).
TenderChef cabinets allow for easy control of temperature, humidity, and airflow within the aging cabinet. LED lights illuminate your most precisions ingredients without compromising the aging process. And operators can even add accessories like a Himalayan salt blog for added flavor profiles.
Beef not your thing? These versatile units do much more than your average tomahawk ribeye, though we certainly encourage it. TenderChef also allows chef to experiment with cured meats, charcuterie, and even dry aging cheese. These units are truly chef-focused, and they're a lot of fun.

Learn more about Carter-Hoffmann's TenderChef Dry Aging Cabinets by scheduling some time to visit the High Sabatino test kitchen or by talking with one of our experienced reps.