High Sabatino is proud to announce the addition of two new manufacturers to our portfolio of foodservice equipment and supplies: Firex and U-Line.
FIREX

Italy-based Firex has 40 years of experience in highly-automated foodservice equipment for restaurants, pastry shops, catering services, and industrial kitchens.
The equipment range includes pasta cookers, pasteurizers, tilting skillets, sous vide, and pressure cookers. There are four product lines, specifically designed to save energy and resources and withstand intense use:
• Major Line for large capacity industrial kitchens
• Medium Line for centers, communities, canteens
• Fast Line for small restaurants, fast food restaurants and canteens with medium volumes and a fast turnaround
• Dreener, a line of accessories with a modular vegetable washer and a spin-dryer
Thanks to its wide offer, Firex can provide customers of any size with an end-to-end cooking and processing line.
U-LINE

U-Line prides itself on producing the right product, for the right place, in need of the right temperature. And they've been doing it since 1962.
What does that mean? They're a leader in innovation, quality, and value in the premier modular ice making, refrigeration, and wine preservation market. As an example, at the recent NAFEM Show, they unveiled new units that showcase their high-end bar and beverage capabilities including the new Luxury Suite Chilling Station and the Portable Luxury Beverage Station. Other solutions include beverage centers, clear ice machines, refrigeration, freezers, and more.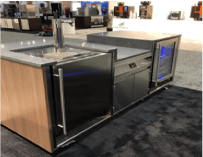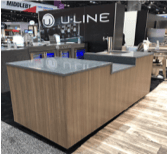 Firex and U-Line are both quite versatile in their capabilities and we believe they will bring a comprehensive set of solutions to foodservice operators in Virginia, Maryland, and the Washington, D.C. area. Schedule some time to talk with an expert to learn more.