Among many other priorities, colleges and universities have had to strategize on best practices for feeding on-campus students, faculty, and staff. In addition to social distancing markers and mask requirements, self-serve stations and buffets disappeared while tasteless, pre-packed lunches became the norm.As an alternative, many students on food delivery services like GrubHub and DoorDash. Make no mistake about it; these expensive food delivery options place a huge financial burden on the already cash-strapped students. In addition to the food choices being more desirable, students use these services because they can conveniently get a meal when they desire and where they happen to be.
What if there was another option? A solution that is perfectly adaptable to the challenges of the 2020-21 school year and satisfies safety and sanitation protocols against the spread of COVID. The Carter-Hoffman Pickup Cabinet (or PUC) is the latest in foodservice equipment for colleges and universities that is redefining campus food delivery while also bringing that food service revenue back to the institutions.
What is The Pickup Cabinet?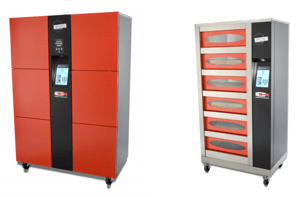 High-Sabatino is offering the Carter-Hoffman PUC as a new foodservice solution that allows colleges and universities to leverage the power of food ordering and pickup with one smart solution. The PUC is a secured, food grab-and-go cabinet that safely holds student food orders until pickup - eliminating long waits in line that also compromise social distancing mandates.
With smart technology and an intuitive interface, the PUC is easily integrated with your campus POS system. The student begins by placing an online order. After the digital payment is approved, your staff prepares the food, places it in the PUC, and the system automatically sends notification that the order is ready for pickup. On arrival, the technology-friendly system only requires the student to input their QR unlock code for a hassle-free meal pickup.
Let's face it, takeout, delivery, and pickup are the new modes of foodservice operations. The Pickup Cabinet provides both students and your staff with a quick and easy way to take food orders, then serve it grab-and-go style with the fewest touchpoints or face-to-face interactions.
Benefits of the PUC
Provides a touchless experience between foodservice and students
Temperature-controlled units keep foods at safe storage temps
PUCs are modular, so you can add PUC units as demand increases
Pizza style or locker style units to support what students order most
Food Service in More Places
These are great benefits that will work to return students that have looked to off-campus food venues and third-party delivery services back to campus food services. Now, universities can locate PUCs at multiple points of service including existing cafeterias, dormitories, and student centers. Students can get the food they want to eat delivered to where they are.
Multiple Cost Savings
If your administration has been looking for ways to decrease the cost of foodservice operations and the associated labor costs, then The Pickup Cabinet is the solution. The convenience, labor-saving, and touchless technology all combine to automate food services in colleges and universities. This means a more streamlined workflow and a reduction in food servers and cleaning staff.
Scale-able and Flexible
The Pickup Cabinet allows you to scale up your food delivery services as more and more students return to campus. It is so convenient and so smart that a recent installation at Boston College receive praise from students because the service is easy to use by way of smartphone and the food pickup is so accessible. Smart, quick, and delicious is exactly what students want and need from their on-campus food services
The Carter-Hoffman PUC in the solution for adapting your food service operations to meet the challenges of 2020 and beyond. These units were built for expandability and flexibility with 5 standard models including 3 door or 6 door pizza cabinets, pass-through-front, or front-loading access, along with other customizable options.
See it in action
To discover how The Pickup Cabinet can transform your on-campus foodservice operations, schedule a personalized consultation with one of our foodservice professionals. We have many options available, and always love customizing the perfect solution.